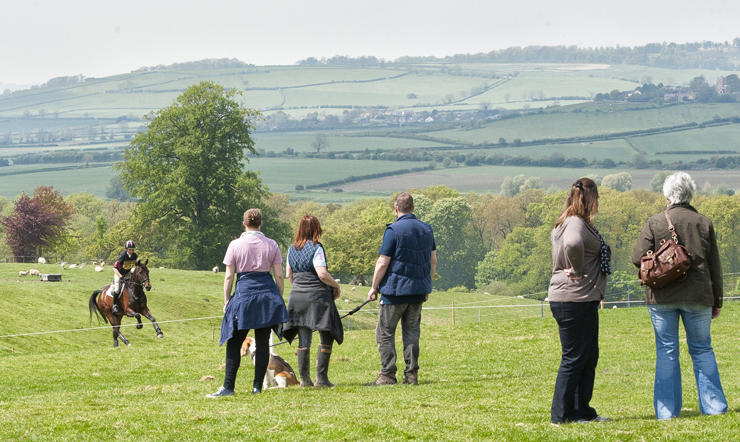 09 May

Local rider round up from Brigstock International Horse Trials
Local Riders were very much in contention through the Brigstock International Horse Trials at Rockingham Castle last weekend.
Rushton based (Northamptonshire) Tom How won the Open Intermediate section riding Belco HRS – the horse he also rode to victory in the British Eventing 7 Year Old Young Horse Championships at Osberton last autumn. Tom's Sister, past Junior gold medallist Sophie, was also in the ribbons in an Intermediate class riding Bojangles HRS.
Willa Newton from Melton Mowbray (Leicestershire) took the spoils in Intermediate section N, Chance Remark the only horse in his class to achieve the optimum time across country. Willa is another young British medal winner, showing the depth of up and coming talent in the region.Not to be outdone Jake Fowles from Kirton (Nottinghamshire) claimed Intermediate section M with Zorro G, a horse he has produced himself; this was their best result to date.
At the lower levels, Eliza Stoddart and Rich Junior K from Market Harborough (Leicestershire) completed on their dressage score to win Novice Section G, beating Eventing legend Mary King into third place.Gina Ruck from Tealby (Lincolnshire), and Maidwell (Northamptonshire) favourite Piggy French made it a 1-2 in Novice section F with foot perfection performances from Antigone E Z and Cooley Dream Extreme. Piggy recorded a further six top 10 placings over the weekend.
Leicestershire based Katie Barber (Queniborough) and Emilie Chandler (Melton Mowbray) won a BE100 apiece, Emily also placing third in one section.
Other local riders in the ribbons were Leicester's JP Sheffield, runner up with the stallion Woodlander Wesuvio in a CIC* section, and Rosalind Canter from Louth (Lincolnshire) who rode Cekatina to 4th place behind JP, holding Laura Hill (Billesden, Leicesterhsire) back into 5th.
Market Rasen (Lincolnshire) rider Emily Parker, a previous Young Rider European Champion, was runner up behind Jake Fowles at Intermediate level, while Alexton (Rutland) rider Angus Smales took second place behind Willa Newton.
Northamptonshire's Max Gordon (Preston Deanery) picked up a third place at BE100 level, whilst at the other end of the scale, multi Olympic gold medal winner Andrew Hoy – an Australian by birth but now based just outside Melton Mowbray (Leicestershire) took 3rd place in the top class, the Advanced Intermediate, finishing two places ahead of Junior British Team gold medallist Alex Liddle from Wymondham (Leicestershire).