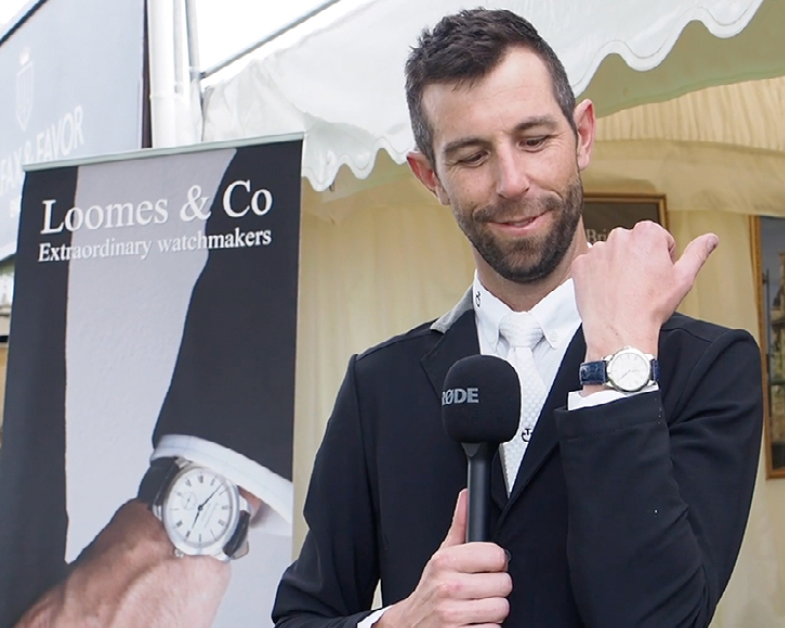 11 May

Celebrating 10 years of the Loomes Championship

This year marks the tenth anniversary of the Loomes Championship, a competition unique to Rockingham that carries the highly sought-after prize of a hand-produced watch made locally by the event's Official Time Keeper, Robert Loomes & Co.

The stunning British-made timepiece is awarded to the rider in the top five who finishes closest to the optimum time on the cross country across the Advanced Intermediate and Open Intermediate classes. With so many riders keen to get their hands on this beautiful prize, visitors to the Fairfax & Favor Rockingham International Horse Trials can always be sure to enjoy watching some top-class cross country riding.

In celebration of this landmark anniversary for the Championship, Loomes are offering an incredibly special 'Model Ten' watch – created for this year only. One of just 10 to be made and worth a staggering £10,000, it promises to be an extremely popular prize!

"The event resonates with what we do," explains Robert Loomes of their relationship with the horse trials. "It's all about commitment, excellence and timing. The Fairfax & Favor Rockingham International Horse Trials is a superb place to promote a great British product."

"It's great to see these experienced riders keeping split seconds timing in their heads," adds Robert's wife, Robina Loomes-Hill. "One of our winners, Sir Mark Todd, didn't wear a watch to compete – just rode on the feel of strides per minute. That takes the kind of experience, skill and precision we need in our work. Hugely impressive to watch."

The Championship has produced an impressive roll of honour over the years, from Ireland's Austin O'Connor who won the first watch back in 2014 to last year's winner, New Zealand's Clarke Johnstone and Menlo Park who went on to take a team bronze medal at the World Championships in Pratoni.

"Almost a year on, to have won the beautiful Loomes watch at Rockingham is definitely still one of my highlights of last season," said Clarke. "It really is an amazing prize and one that I am very, very happy to have won.

"I love wearing the watch and showing it off to anyone that cares to listen to the story behind it! It's an absolutely beautiful watch and gets a lot of comments. I'm very proud of it."

The Loomes Championship takes place on Sunday 21 May and concludes three days of world-class sport within the castle estate. The Fairfax & Favor international classes take centre stage for the first two days, with many of the world's top event riders heading to Northamptonshire to contest the CCI-S 2* and CCI-S 3*.

In addition to the eventing classes there will also be Pony Club Team Show Jumping, Riding Club Team Show Jumping, Arena Eventing classes and qualifiers for the prestigious Burghley Young Event Horse.

The event offers a wide range of attractions, from the chance to meet some friendly Shire horses to 'have-a-go' dog agility for canine family members. Alongside the sport there will be an array of trade stands, children's entertainment, and a food, drink and crafts marquee full of local delights.

Ticket prices start from just £10 for adults and £3.50 for children, with children aged five and under getting in free. There are currently some great discounts available on ticket prices, which will remain until the competition begins. For more information and to book tickets click here.

A full event timetable is available here.

Fairfax & Favor Rockingham International's Official Time Keeper, Robert Loomes & Co. is a small, traditional firm of watchmakers hand-producing around a hundred watches a year, each one entirely manufactured in this country.