14 May

Robert Loomes & Co Launches New Watch
A Championship with a prize to treasure!
Described by Sir Mark Todd as 'the prize of prizes in British Eventing,' the hand-produced watch awarded to the winner of the Loomes Championship at the Fairfax & Favor Rockingham International Horse Trials is a prize many riders have their eye on.
Worth nearly £9,000, the watch is awarded to the rider closest to the optimum time on the cross country course in the Advanced Intermediate or Open Intermediate classes. This year's Championship, which takes place on Sunday 19 May, will be the sixth time that Robert Loomes & Co in Stamford have offered one of these incredible British made watches.
Robina Hill, MD of Loomes, is passionate about the company's connection with the sport of eventing. She said: "The cross country phase is all about timing and precision, very much what Loomes do for a living.
"We love to see the winners enjoying their watches. Austin O'Connor, our first winner, frequently wears his Loomes watch to compete. We love it when he showjumps wearing it!"
Sir Mark Todd is so fond of the Loomes watch that he won in 2015, that he has already sent it back to the team at Loomes for some TLC. "He was a little hard on his watch and did have to send it in to fix a loose seconds hand," explained Robina.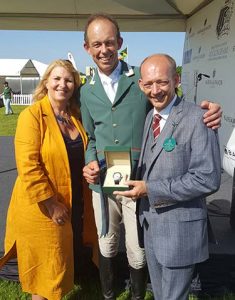 It is certainly a prize that many riders want to get their hands on and last year's winner, Jonty Evans, was no exception. "The Loomes watch had been on my wanted list for a while," he said. "It made Rockingham International Horse Trials a definite fixture for us on the circuit last year."
Spectators will be sure to enjoy some top-class cross country action as riders battle it out for this unique and prestigious prize. Over the years some of the most famous names in eventing have won it, but there is one notable omission – a female name on the roll of honour.
"Oh blimey, a female winner! Robina, our MD, would be mad keen if we had one," said Robert Loomes. "It's about time. And yes, we do have a slightly smaller diameter all-British watch available and we know Piggy French has had her eye on it for a couple of years!"
The British watchmakers will be the official time keepers over the three days of the 2019 Fairfax & Favor Rockingham Castle International Horse Trials, which take place from Friday 17 to Sunday 19 May. The Horse Trials offer a great day out for all the family with plenty to see and do, a wide range of trade stands to be explored and a variety of delicious food and drink stands on site selling everything from coffee and cake to ostrich burgers!
In addition to the British Eventing classes, there are also plenty of opportunities for amateur riders to compete at this stunning venue. Pony Club Team Show Jumping, Riding Club Team Show Jumping and Arena Eventingclasses are available – please visit www.rockinghamcastlehorsetrials.comfor more information.
Tickets
Tickets for Sunday are £15 for adults and £3 for children, with children aged five and under getting in free. Weekend tickets (Friday, Saturday and Sunday) are available for £20 for adults and £5 for children and a weekend family ticket for two adults and two children is just £45. Tickets can be purchased at the gate on the day, but a 10% discount is available if tickets are bought in advance – enter the code HT1910 when booking online.
Launching at the Fairfax & Favor Rockingham International Horse Trials
The Loomes Northamptonshire Watch
Friday 17th May 2019
for further information visit www.loomeswatches.com