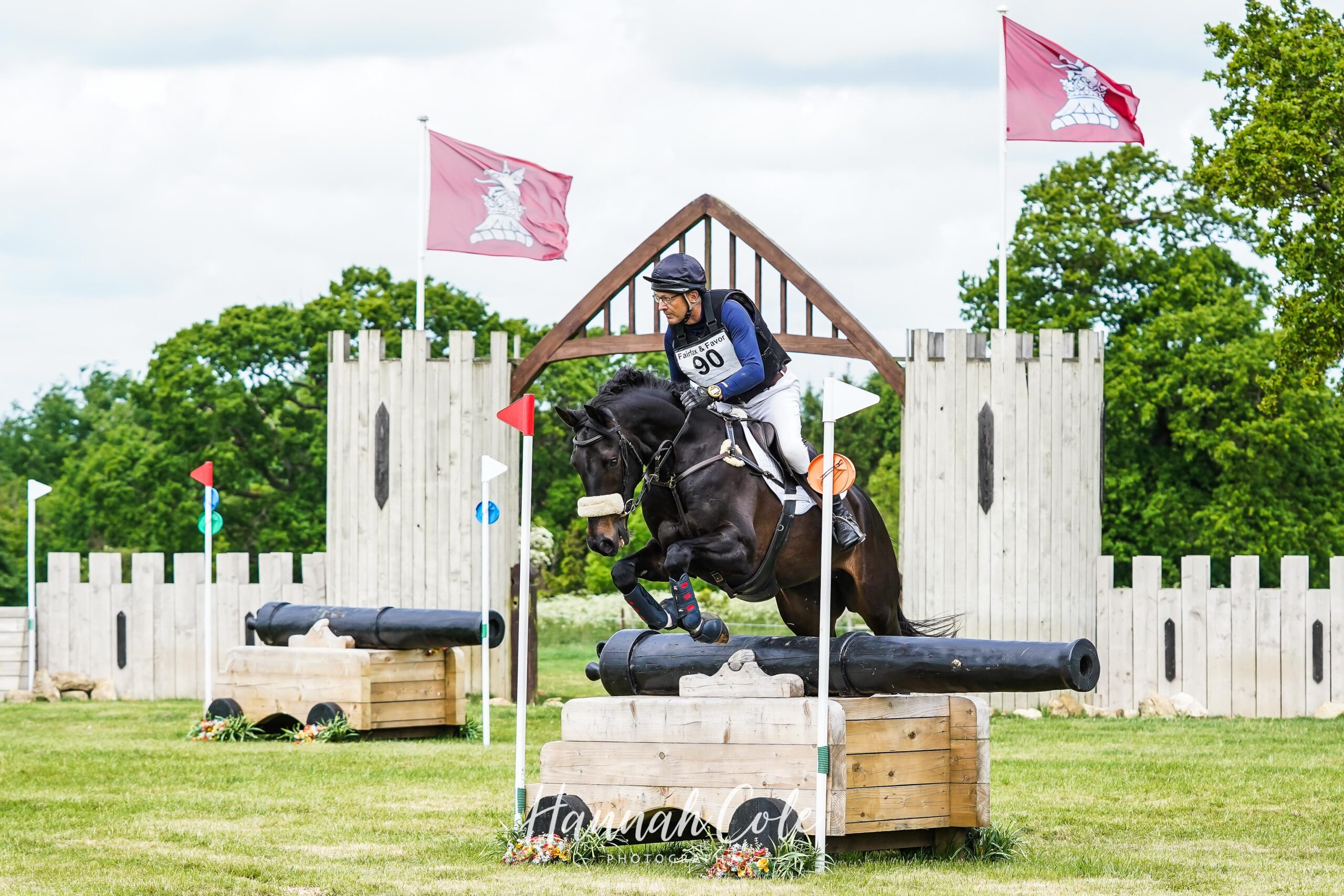 21 May

Saturday Round-up

Rockingham Castle has seen plenty of entertainment on horseback through the centuries, from Knights meeting at the tilt to Medieval Kings heading out to hunt in the surrounding forest, and over the last ten years the Horse Trials have taken their place in the venue's rich tapestry of history.

Having lost the last two running's through the impact of Covid, Rockingham's return to the eventing calendar was much anticipated, and today did not disappoint!
Another CCI-S 3* win for Piggy!
Piggy March won three international classes at Rockingham when we last ran back in 2019, contributing to an incredible season where she achieved a record breaking 15 international wins. Fast-forward three years and it was business as usual for Piggy, as she added another CCI-S 3* title at the 2022 Fairfax & Favor Rockingham International Horse Trials.
This time her partner was the very exciting young stallion, Halo, owned by Jayne Mcgivern. The pair had been lying second after dressage on a score of 23.8, just behind Tom McEwen and Brookfield Braveheart. A pole down in the show jumping for Tom gave Piggy the chance to move ahead – an opportunity that she seized by delivering faultless performances across the show jumping and cross country.
"He's a really good, solid three phase horse," said Piggy of Halo. "Having run so well here in the CCI-S 3* he will step up to Advanced level. I think he is a very exciting horse for the future and I am very interested in his progress."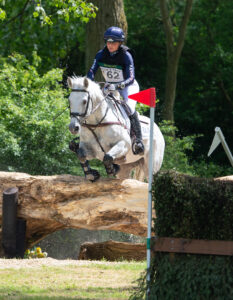 Piggy March and Halo on their way to winning the CCI-S 3*
(Image, Adam Fanthorpe)
Piggy may have pipped him to the win but it was still a good day for Tom McEwen, who had two horses placed in the top four – Brookfield Benjamin Bounce in second (25.9) and Brookfield Braveheart, fourth (29). A great performance from Harry Mutch and HD The One saw them slot into third, finishing on their dressage score of 26.2.
"It's just fabulous to be back here at Rockingham," said Piggy, summing up the day. "It's crazy to think that we were last here in 2019, which was an amazing year for myself.
"We've missed it very much and I think you realise that more so when you come back – the feeling you get when you drive through the gates.
"We are so lucky in our sport to have such amazing venues that we can bring our owners to and have a fabulous day's sport. Rockingham is definitely a big aim for me during the season and happily it came off with a first rosette today on a beautiful younger horse coming up through the ranks."
Bill Levett takes the CCI-S 2* honours for Australia
There was a shake up of the order in the CCI-S 2* after the jumping phases, with Bill Levett and the Master George Syndicate's Brideview Master George moving up from fourth place to take the win for Australia. Two super clear rounds with no time penalties left them at the top of the scoreboard on their dressage score of 25.7.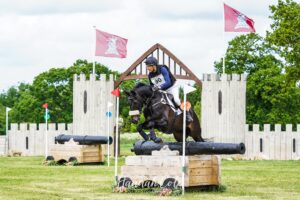 CCI-S 2* winners, Bill Levett and Brideview Master George, jump the iconic castle fence. (Image, Hannah Cole Photography)
All of the combinations in the top three completed on their dressage scores, with strong jumping performances also moving Tom Rowland and Honeybrook Extra Special up to finish second on a score of 26.1; and Will Rawlin and The Dominator into third with a score of 26.7.
"It's very hard to win anything when there's one hundred or so combinations in the class, so it was just very pleasing for the horse," said Bill. "We've had him since a three-year-old and then a syndicate of people bought him from us, and they've followed him all the way along. So, that's more satisfying as well.
"The great thing is that most of the owners were here to enjoy the moment because in this sport, like any sport, there's lots of ups and there's lots of downs and you've just got to try and make the most of the ups. It's great they were here to just really enjoy the moment of him winning a prestigious class."
Pony Club Team Jumping
At a time when we are enjoying celebrating Rockingham's milestones, there was yet another little piece of history made in this year's Pony Club Team Jumping competition, where – for the first time ever –  we had joint winners of the £500 training bursary generously provided by Spillers.
After all the scores had been added up, there was just no way to split the two teams who were so close on performance and the decision was made that they should share the prize.
So, huge congratulations go to our two overall branch winners for 2022 – the Burghley Pony Club and the Atherstone Pony Club.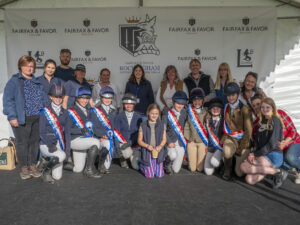 Team members and supporters from the Burghley Pony Club and the Atherstone Pony Club come together to celebrate their success
Yet again this competition produced a fabulous day of sport for Pony Club members, with the cheers ringing out across the Park!
A wonderful atmosphere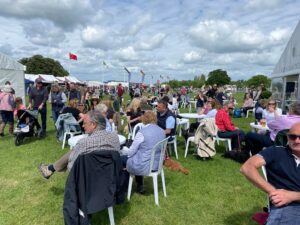 "It has been an absolute pleasure to have the Horse Trials back in the Great Park this weekend and so lovely to see so many people back enjoying such entertaining sport," said event organiser, Lizzie Saunders Watson.
"We have two worthy international class winners in Piggy and Bill and we can't wait to be back to do it all again tomorrow – when we will discover who will be the winner of a beautiful hand-crafted British watch in this year's Loomes Championship and we will also host British Eventing's inaugural Intermediate Masters competition. We look forward to seeing you then."