22 May

Sunday Round-up

It was a fabulous final day at the Fairfax & Favor Rockingham International Horse Trials today, with some fantastic cross country action as riders battled it out to win a stunning, hand-produced Loomes watch.
Clarke Johnstone wins the 2022 Loomes Championship
New Zealand's
Clar
ke Johnstone
 receives this year's beautiful, hand-crafted Robert Loomes watch for his ride in the Advanced Intermediate with Menlo Park.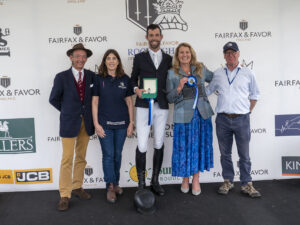 Clarke receives his Robert Loomes watch from Robert and Robina Loomes and event organisers, James and Lizzie Saunders Watson
For most of the day it had looked like we might get our first female winner of the Championship, with La
ura Collett
(one of the first to go) stopping the clock bang on the optimum time.
However, this competition loves to deliver a thrilling finish and Clarke, the very last rider on the course, matched Laura's feat of hitting that optimum time! In the event of a draw it gets decided by show jumping times, and Clarke's quicker round gave him the win and the stunning Loomes watch.
The wait for a female winner continues, but what a fabulous afternoon of sport this Championship delivered once again!
British Eventing Intermediate Masters
We are delighted to have hosted the first ever
British Eventing Official
Intermediate Masters competition and hope all our competitors had a really special day with us.
Congratulations to
M
elissa Joannides
, our 2022 Rockingham Intermediate Master.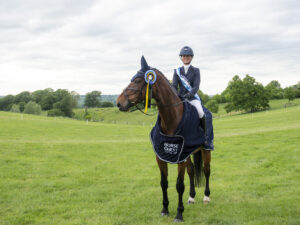 Melissa and Patch Ali (Geoff) led the class from start to finish with a performance very deserving of this prestigious title.
Full report to follow